CMES
Centre de Microscopie Electronique Stéphanois
Le CMES est une plateforme d'imagerie universitaire, hébergée à la Faculté de Médecine de l'Université Jean Monnet situé sur le Campus Santé Innovations. Le CMES, en tant que plateforme d'imagerie en microscopie électronique, s'adresse à toutes les structures scientifiques du secteur privé et public, hospitalières et universitaires ainsi qu'à toutes les personnes individuelles qui souhaitent accéder aux services proposés par le CMES.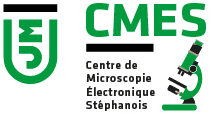 10 rue de la Marandière
Pôle Santé Innovations Faculté de Médecine
42270 Saint-Priest en Jarez
Contact Task Facility Manager (TFM)
0477421434
Depending structure

Faculté de Médecine de Saint-Etienne
10 Rue de la Marandière
42270 Saint-Priest-en-Jarez
0477421700
infos : Website
Jean Monnet University is a member of the University of Lyon, an academic site of excellence ranking as the 2nd largest research and training centre in France with nearly 150,000 students. It stands out as an institution of higher education and essential research in the Lyon Saint- Étienne metropolitan area thanks to its emphasis on partnerships with the higher education institutions of Saint-Étienne and Lyon, the City and the Metropolitan Area, and also with businesses. A multidisciplinary university offering health courses, UJM is present throughout the city of Saint-Étienne: with its 20,000 students, Jean Monnet University supplies young talent and excellence to its 6 campuses and the local area.
Other's Laboratory/Plateforme
---
Facilities manager
---
Facilities